« Entrepreneurship in Education: What, Why, When, How | Main | "10 ГОДИНИ БЪЛГАРИЯ В ЕС" В ЧИСЛА, БСК »
By rraycheva | April 19, 2017
(2016, in English)

   Entrepreneurship Competence Framework
The Entrepreneurship Competence Framework, also known as EntreComp, offers a tool to improve the entrepreneurial capacity of European citizens and organisations. The framework aims to build consensus around a common understanding of entrepreneurship competence by defining 3 competence areas, a list of 15 competences, learning out-comes and proficiency levels, which current and future initiatives can refer to.
EntreComp was developed by the Joint Research Centre (JRC) of the European Commis-sion on behalf of the Directorate General for Employment, Social Affairs and Inclusion (DG EMPL). The current report is the first publication to be released by the EntreComp project after an intensive process of research and stakeholder consultations
EntreComp was developed during 18 months of research involving experts from all over Europe, to take into account the many different perspectives and developments in different countries. It is made up of three competence areas and 15 competences as illustrated in the figure below. It is intended as guidance to help different people – educators, policy makers, employers, and others – develop and assess the competence of those they work with and are responsible for.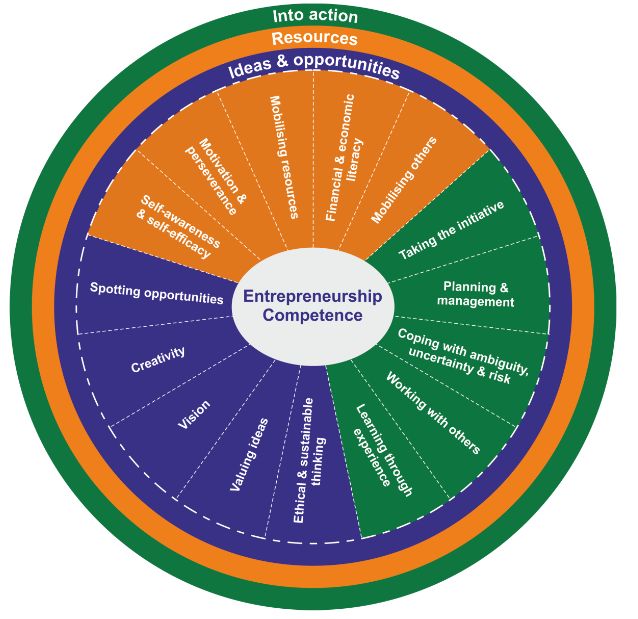 Topics: Библиотека, Икономическо развитие, Образование/Култура | Comments Off on Entrepreneurship Competence Framework
Comments are closed.